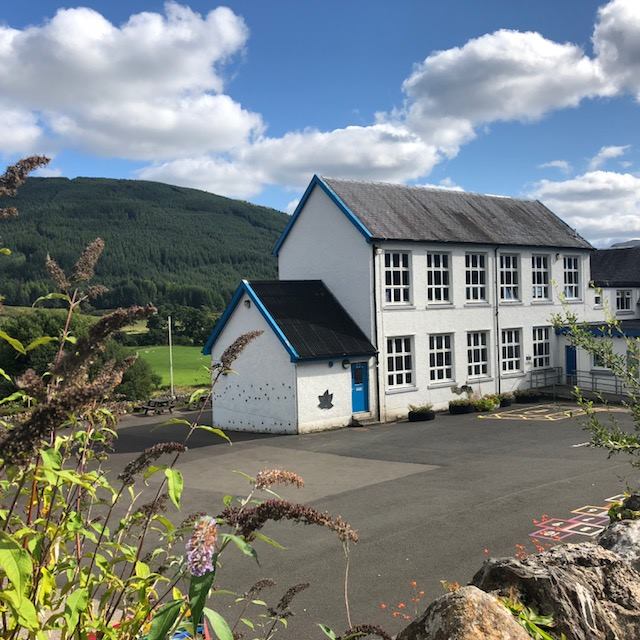 Strachur Primary School is a small rural school situated in the village of Strachur on the shores of Loch Fyne. The catchment area of the school is wide, taking in Loch Restil on the A83, past Cairndow and Dunderave Castle to the north. To the west, it takes in Strathlachlan and stretches to the south halfway along Loch Eck. Strachur Primary is non-denominational and co-educational and covers stages Primary 1 to Primary 7. Our Pre-5 unit caters for children from the age of 3 years.
Our Vision is for happy, healthy, inspired children learning and growing together. At Strachur, every child is encouraged to develop their potential through a balanced curriculum and a variety of learning experiences in a caring, inclusive and stimulating learning environment. Our school makes good use of the rich local environment of forest, mountain and seashore. We have an active Parent Council (SPPG) and we enjoy close links with the wider community. Many members of the community make welcome and invaluable contributions to the life of our school. Our grounds have been developed to promote outdoor, active learning in our beautiful surroundings.
Please do not hesitate to contact us should you require any further information.
School commences 9.00am
Morning interval 10.45am-11.00am
Lunch 12.30pm-1.15pm
Close 3.00pm
Head Teacher :  Ms M Boyd
Strachur Primary School
Strachur
Argyll
PA27 8DH
Tel: 01369 860293